WATER DAMAGE RESTORATION IN BOSTON, MA
Indoor flooding is one of the leading causes of property damage in the United States. When water from natural disasters or plumbing failures gets into places in a building that are supposed to stay dry, this water can spell major trouble for your infrastructure and your contents. Water can rot out wood, corrode metals, ruin textiles and short-circuit electrical wirings. If left unchecked for long amounts of time, it can also create biological hazards that can endanger your health. If you've experienced recent indoor flooding in Boston, Massachusetts, call Kennedy Restoration Services immediately for water damage restoration services.
As the name suggests, water damage restoration is a process that goes beyond simple water extraction and cleanup. A full water damage restoration effort has the end goal of bringing your property back to how it was right before disaster struck. With our extensive experience, powerful equipment and scientific methodology, Kennedy Restoration Services is exactly the kind of solutions provider that can help you fully recover from even the worst cases of interior flooding.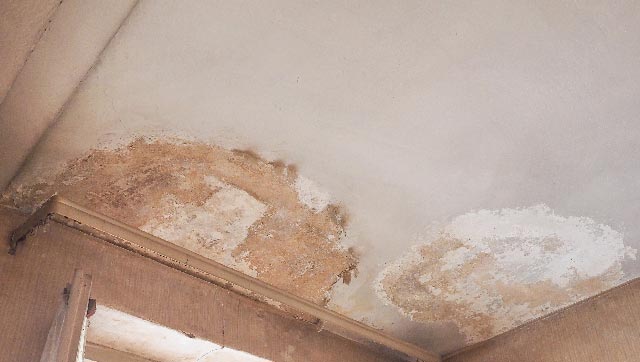 Sources of Water Intrusion
Water intrusion usually comes from one or a combination of the incidents below:
Kennedy Restoration Services' Water Damage Restoration Process
When you choose Kennedy Restoration Services to be your partner in recovering from water damage, you can expect us to follow a thorough and methodical process to get your home or business to the way that it was prior to indoor flooding:
Inspection
We'll evaluate the situation, identify the flood source and provide you with recommendations on how to get your home or workplace back to normal. This service is for free and we'll perform it at no obligation for you.
Damage Mapping
Using probes and moisture meters, we'll track down every last ounce of unwanted water in all flood-affected areas. This allows us to do as thorough a water extraction job as we possibly can.
Water Source Shutdown
Using probes and moisture meters, we'll track down every last ounce of unwanted water in all flood-affected areas. This allows us to do as thorough a water extraction job as we possibly can.
Cost Estimation
We'll give you an educated projection of amounts so that you know exactly what kind of costs are involved in getting the water out of your building and recovering fully from the disaster. If you have a water damage insurance policy, we'll be glad to work with you on getting it approved by your firm.
Water Extraction
When the water is fully contained, we'll bring in powerful pumps to suck out the majority of the water that's flooding your building. We'll use specialized tools to get the water out of even the tightest spaces like tiny cracks, crevices and crawl spaces. When the liquid water is all taken care of, we'll start using dehumidifiers to drive out water vapor hanging in the air.
Food Containment
When we're 100% sure that no more water is coming in, it will be time to stop the floodwater from spreading to unaffected places. Using plastic barriers and sheets, we'll cut off water flow and prepare for extraction by pump. We'll also stop the spread of excess moisture using negative air pressure and plastic stoppers.
Reconstruction and Repair
Indoor flooding can damage your structure and its contents. We'll perform a thorough assessment of everything that can be salvaged and we'll recommend its full restoration at the hands of our expert team. If an item or a part of your building cannot be salvaged, we'll do repair and reconstruction work as needed.
Disinfection
Water spurs the growth of bacteria, viruses and fungi. Floodwater is highly unsanitary and it can leave behind microbes that can make you sick if you don't deal with it early on. Kennedy Restoration Services uses disinfectants that are tough on germs but gentle on people. We'll make sure that your home or office is completely disinfected before you start using it again.
Deodorization
It's not enough for your commercial or residential space to look and feel clean in a post-water intrusion scenario. Flooding can leave behind a musty odor that's hard to get rid of. We've got a lot of experience with this problem and we'll address it by taking out the odor source and deodorizing the affected areas. By the time we're done with the process, you and other people in your building will smell the difference.
Post Flood Cleanup
Floods can leave behind big messes. We'll take care of clearing all the flooded areas of debris, taking out contents that can't be salvaged and safely disposing of potentially hazardous material.
Call Kennedy Restoration Services Today!
Contact Kennedy Restoration Services today if you need water damage restoration services for your property in Boston. Our friendly staff is on standby all day to take your call at 888- KENNEDY (369-8626). You can also reach us via email via the Contact Us form above.

Reno did a very good job. He arrived right on time. he knew exactly what he was doing and explained everything very well. Your company has a Great reputation because of Workers like Reno.
Kevin S.

Thank you for a great experience again..I have used your company in the past yrs ago and had excellent and exceptional service so now that I have bought my own home was happy to do so again..From my phone call to my actual service I received awesome customer service..thank you again..
Jennifer V.

Why only 5 star option??? Bill couldn't have been nicer or more professional. He did a fine job!
Virginia B.